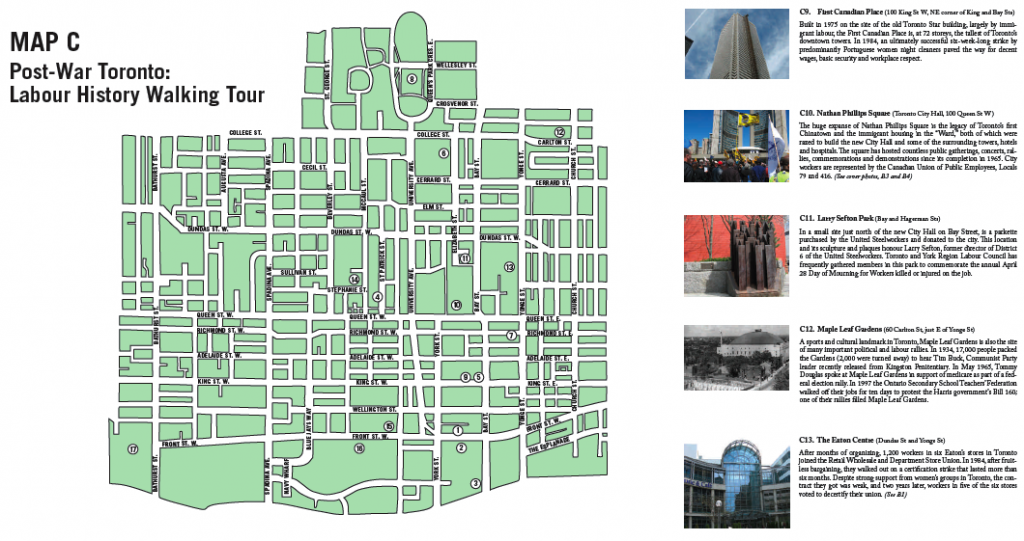 I just found out about this Labour History Map produced by CUPE Local 79's David Kidd and Maureen Hynes from the School of Labour at George Brown College. The map consists of 3 tours organized by 19th century, early 20th, and post-war Toronto.
It joins a constellation of existing projects that are attempting to popularize a "people's history" of Toronto like the Great Indian Bus Tour of Toronto organized by the Toronto Native Community History Project, the Missing Plaque Project,  and the Ontario Coalition Against Poverty's (OCAP) History's What We Make It perpetual calendar. Long-time OCAP organizer Gaetan Heroux is also known to organize a tour on "Relief and Resistance: A Poor People's History of East Downtown Toronto" and activists Bonnie Burstow and Don Weitz have given a people's history workshop on "Fighting Psychiatric Violence and Oppression". While a student I produced a Radical Map of UofT and folks have organized Disorientation tours.
With a much larger focus, No One Is Illegal – Vancouver produced a People's History of Kanada poster project. It's hard to mention NOII-Vancouver's poster project without mentioning the Celebrate People's History posters produced by Justseeds and their recent collectively-produced book Firebrands, or to even mention any of these projects without recognizing the foundational work of Howard Zinn's A People's History of the United States that has inspired so many of us.
People's histories have taught me the invaluable lesson that we are not just the targets of historical forces and events – we actively shape it. History's what we make it!
Two final recommendations: when I was in New York last summer, it was great to have Radical Walking Tours of New York City handy, and to explore the Chicago Poetry Tour when I was there.
Tags: graphics, howard zinn, indigenous, justseeds, maps, no one is illegal, ocap, people's history, posters, tours