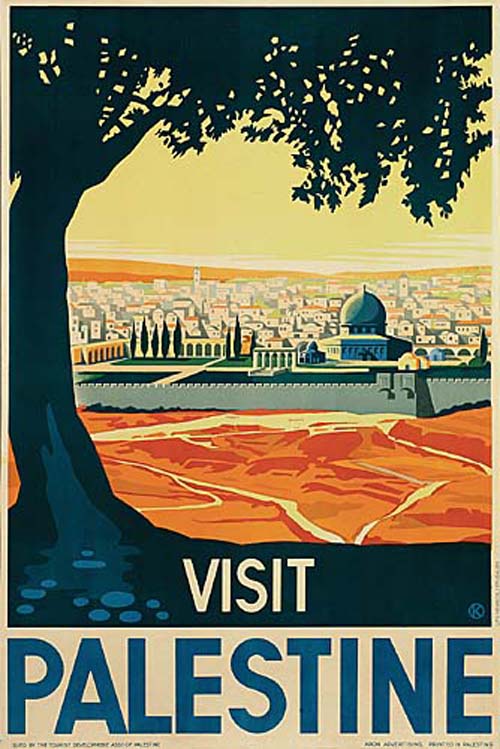 I am floored. I was just introduced to the Palestine Poster Project curated by Dan Walsh.
Dan has gathered nearly 4000 images from over 900 artists dating from the early 1900s to the present. Most of the earlier works come from Zionist development agencies, while the collection from the 1960s onwards reveals the massive output of posters and graphics produced in support of the Palestinian people and their liberation.
Taken together, they are a tremendous resource for learning about the history of Palestine and Israel in the present context, especially since Dan has put so much effort into finding translations and contextualizing individual images, even beginning to assemble a "new curriculum" that draws on the communicative force of these posters.
He has written a great article about the significance of the Visit Palestine poster:
"With this one poster pulled out of the Zionist attic, three core myths are debunked. The first myth is that Palestine had ever been a land without people. Obviously someone lived in these houses and someone tended these gardens. The second myth is that Palestine was a vast desert awaiting cultivation. The resplendent tree in the foreground suggests that the land surrounding Jerusalem was much more than barren desert. The third myth is that there never was a Palestine. Of course there was a Palestine, and here it is, called by name in a Zionist-published poster."
This is exactly the type of work that I am interested in doing, and I was actually able to draw on some of the boat images I have shared on this blog in recent No One Is Illegal workshops at schools and universities.
Hopefully I am not being rude, but I just had to share some of my favourite images from the collection. I tried to be somewhat representative, though I also noticed that I gravitated to a number of images that I had encountered already, which had already found me, and taken root in different spaces and places where we have honoured this struggle for Palestinian liberation and its relation to our own and the many others we hold with us.
And should you be so moved, there is a super cool Imaging Apartheid poster contest underway right now.