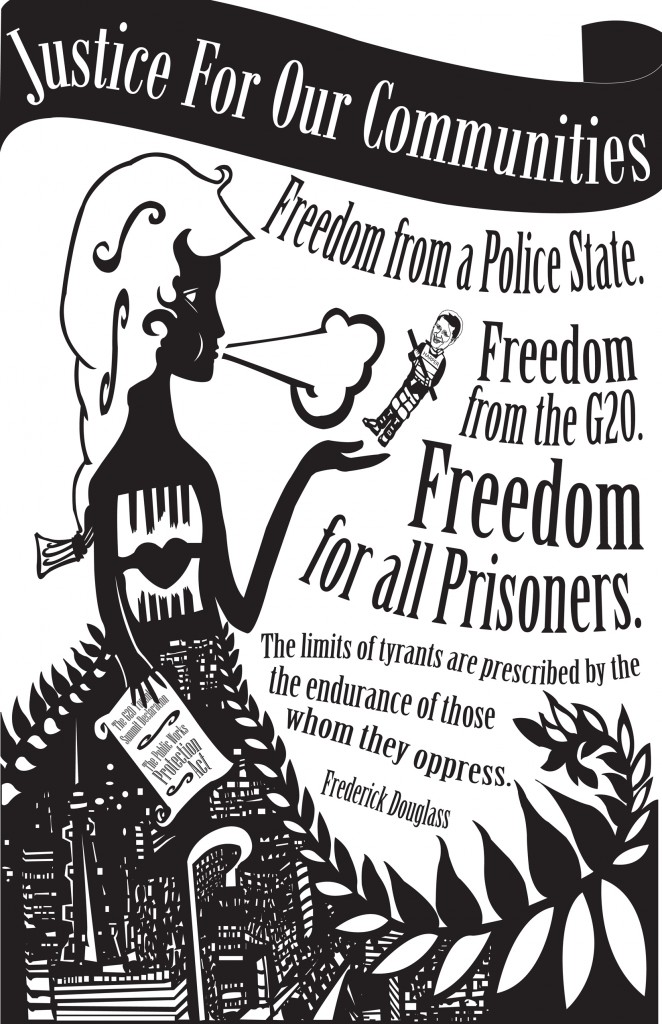 G20 image by Sheila Hewlett
I co-host a radio show on CKLN 88.1FM on the 1st and 3rd Friday every month. Our archive of past shows is accessible here.
Last night's show was titled "Neoliberal Dress Rehearsals: Fighting Austerity and State Repression with OCAP".
We spoke with John Clarke from the Ontario Coalition Against Poverty (OCAP) about post-G20 organizing in Toronto and the parallels between the criminalization of community organizers during the G20 and OCAP's June 15, 2000 demonstration at Queen's Park.
Featuring:
"No Borders No Fences" Harsha Walia, Jaggi Singh and SK Hussan + Sikh Knowledge
Support the legal defense efforts: http://www.g20.torontomobilize.org/
STOP THE SPECIAL DIET CUT – RAISE WELFARE/ODSP RATES NOW!
Meal, Rally and Action
Wednesday, July 21 @ 12 noon
Ministry of Community and Social Services, 900 Bay St @ Wellesley
Poster here: http://update.ocap.ca/node/896