In 2012 our letterpress teacher Akemi Nishidera took us on a class trip to Don Black Linecasting, a magical place with innumerable treasures from the history of print, all being expertly restored and soon-to-be given new homes.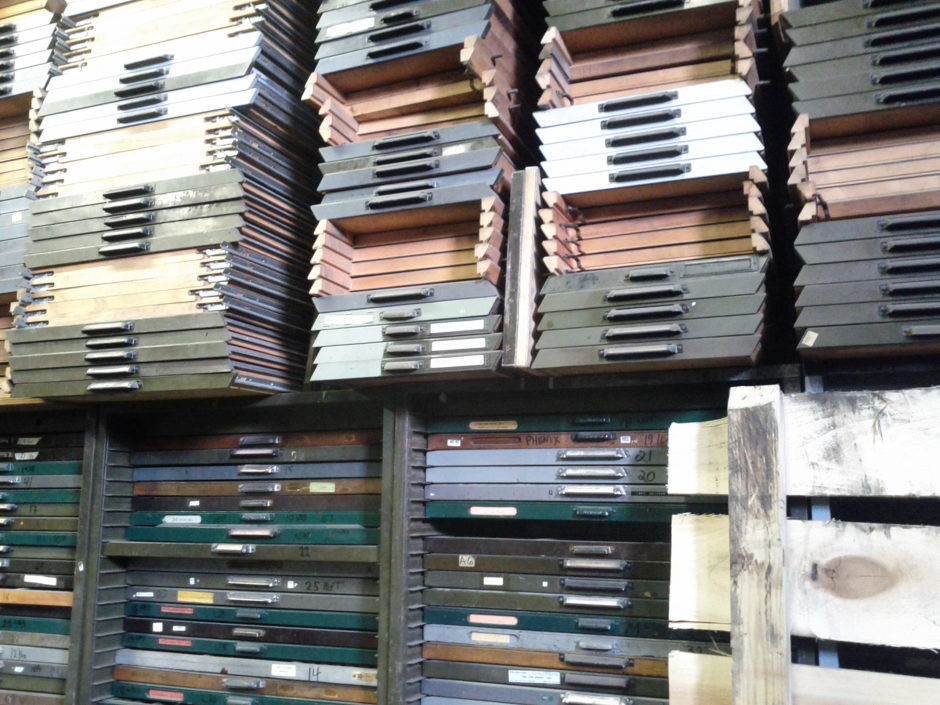 The tightly packed shop in Scarborough is run by Don, his wife Ruth, son Craig, and Albert Kwon (then an apprentice and now office manager). Our wonderful guide for the day was Craig Black. I am sad to learn that he passed away earlier this month.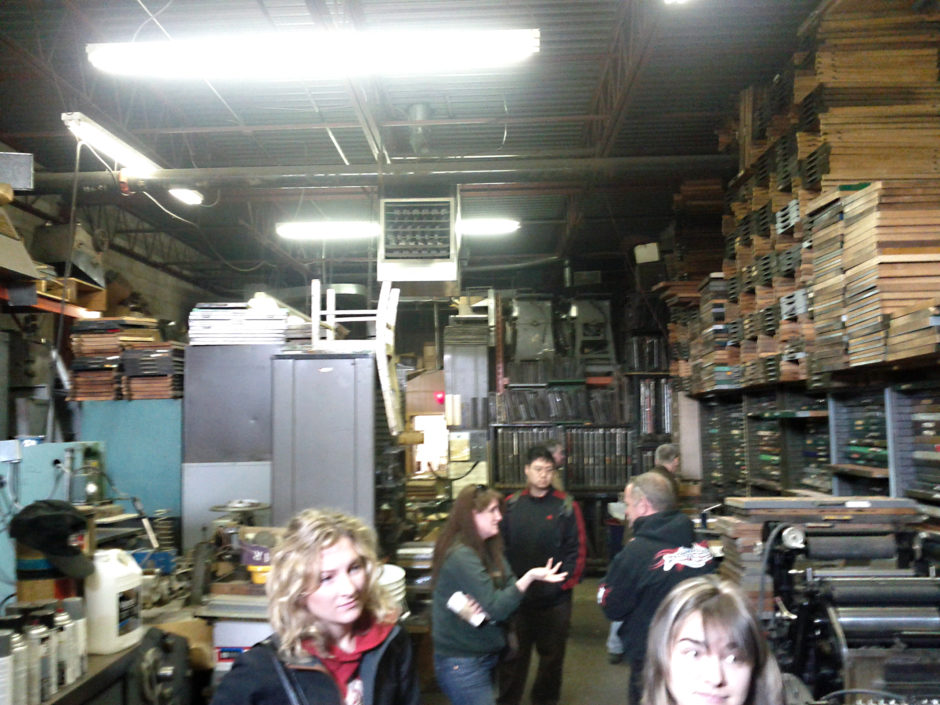 Don Black Linecasting formed in the aftermath of the 1964 printers' strike, a 7 year struggle involving workers at the three Toronto daily papers: the Toronto Star, Toronto Telegram, and Globe & Mail. Don Black was a "hot type" Linotype mechanic at the Globe from 1953 to 1964, and in a "twist of fate" he acquired most of the composing room from that paper in 1978.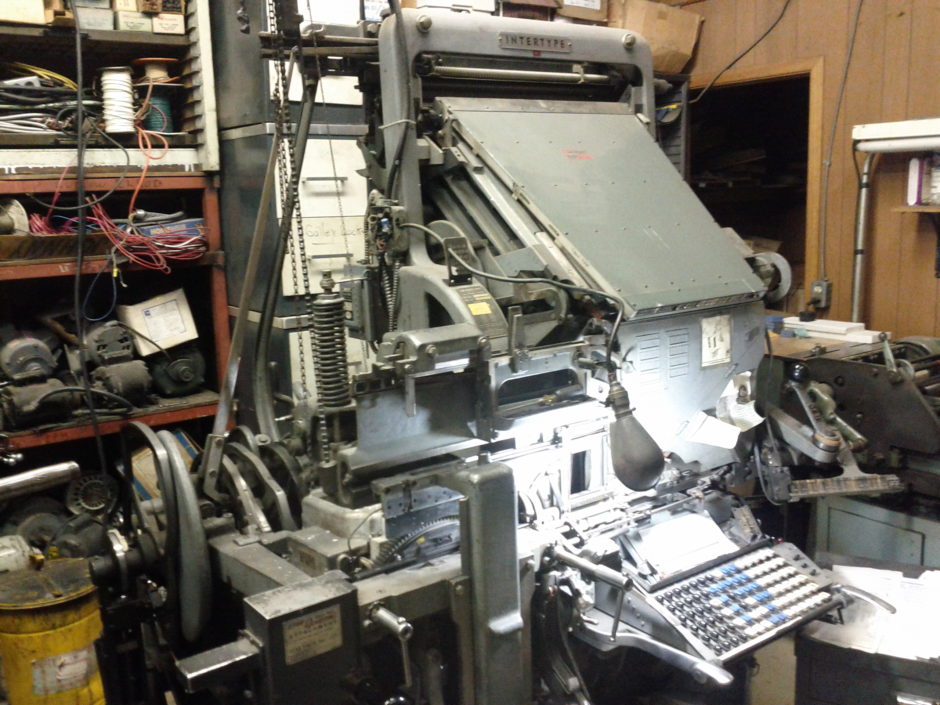 Much like now, workers of the 1960s were faced with a rapidly accelerating pace of technological change. In the early 1900s, the typographic union was such a powerful and well-organized force that they were among the first to secure an 8 hour workday through a series of "tactical strikes in major cities". In 1896 it took approximately 635 "person hours" to produce a 4-page newspaper section; in 1926 only 17.4.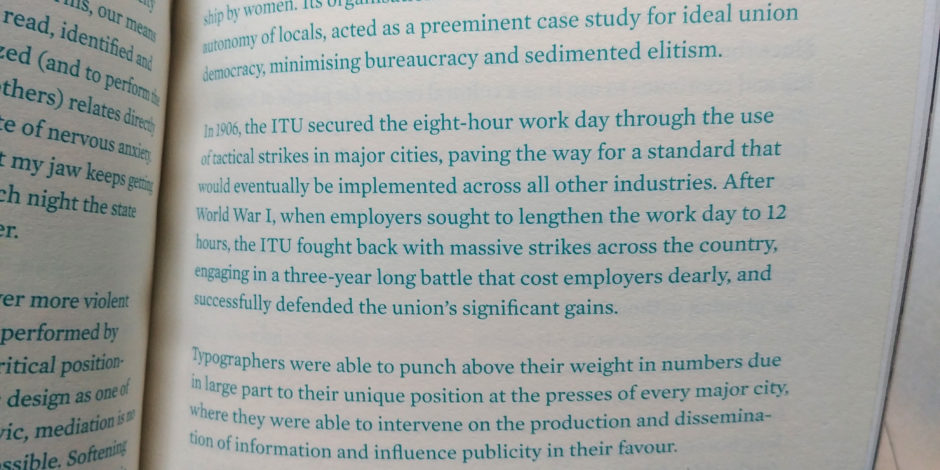 With such massive increases in productivity, why was it only the bosses who benefited? In today's "innovative" gig work and app-based economy, we need to consider this question. What is truly innovative and what is simply a slight of hand? The premise of most gig work apps is that they are designed to evade and undermine the (meagre) labour protections workers have fought for over the years. They claim to be technology platforms, not employers, despite controlling virtually every aspect of people's working conditions.

Foodsters United, who are seeking to organize the first union with app-based gig economy workers in Canada, have a cutting slogan to this effect: "Gig economy / same old crap / exploitation in an app." Even with this in mind, most apps are not even profitable yet. Their substantial annual losses are underwritten by investors playing the long-game. It is a race to the bottom in pursuit of Amazon-style monopoly power.

Carefully setting up my first letterpress project at Kozo Studio
This is the magic of Don Black Linecasting – it provides a window into another possible world, a world in which "unproductive" machines are given afterlives – not in a scrap heap – but in the service of independent presses, authors, artists and, by extension, their audiences. They too are often deemed "unproductive" but are vital to our cultural and social life.

After being cast aside by his employer, Don – along with Ruth, Craig and Albert – created something truly valuable, something which can't be measured on a balance sheet. Many thanks.
Note: For photos that truly do justice to the space, please see Christine Gittings set on Flickr.