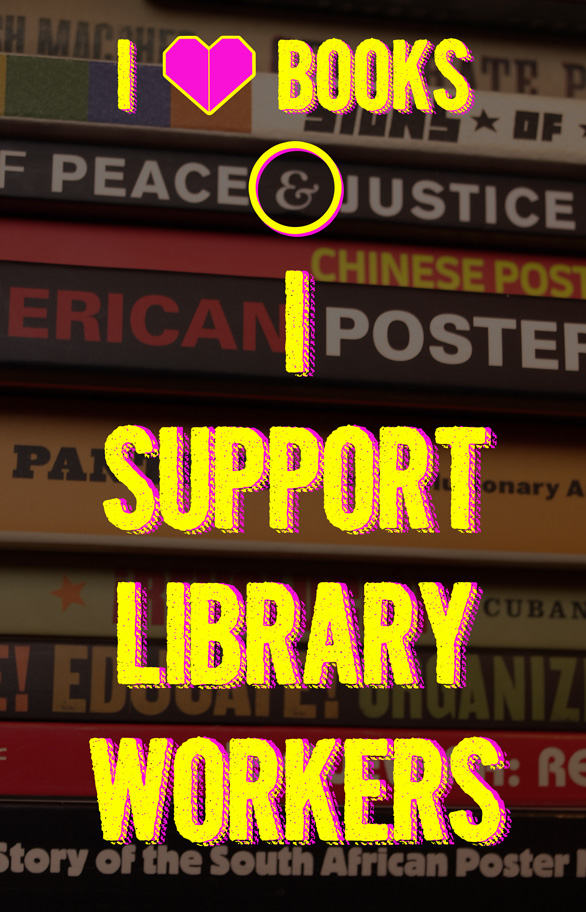 I just made this quick graphic in support of Toronto Public Library Workers, who are going on strike today.
The font I used didn't have an ampersand or plus sign, but fortunately there was an ampersand sitting right there in the image! That's Lincoln Cushing's Visons of Peace & Justice (2007), which is about Inkworks Press in Berkeley.
For Print:
I worked for the public library when I was high school, it was my first job ever. Even though I was part of the library union then, I didn't actually know what that meant, and it never made itself known to me. Too bad, because I think it could have made a big difference for me and other younger workers.
After working in different union and non-union jobs, my idea of what a union is has definitely evolved over time. When I was working at a library again, this time while at university, my definition of union was what my closest co-workers and I were willing to do to support each other – and I actually felt quite supported.
I'm sure we benefited in many ways from having a legally-binding collective agreement and other formal supports in place, but as "casual" (meaning we were forced to re-apply for our jobs each new term) part-time workers who sometimes had supervisors who were part of the union, we were closer to the bottom wrung of the ladder, and working in such close proximity, we were the union, responsible for negotiating the nature of our working conditions every shift.