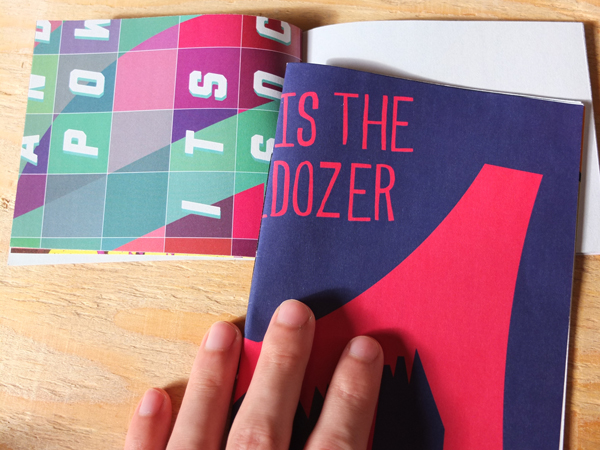 Hey it's me checking in. I'm prepping with Radical Design School for our workshop during the OPIRGs' Rebuilding Bridges conference.
Our session involves re-purposing (un-used) political posters to make notebooks. Should be fun and hopefully an opportunity to facilitate a good discussion about movement-building as well.
In the process of developing this workshop we came up with a neat list of some other possible projects. It's not ideal, but sometimes after a big event or demo, there's stacks of extra posters left over. And inevitably, when you're making prints, there's going to be some misprints that aren't quite right.
Some become keepsakes for personal archives – tacked on to walls or tucked away for safe-keeping – but what can we do with the rest, the uncoveted remainder? Do posters need to have an expiry date? Can they have a second life? Another opportunity to speak out, maybe a chance to try doing something new?
I hope so!
Notebooks (Pamphlet Stitched)
The notebooks pictured here are pamphlet stitched. I learned about this simple technique from a little zine I got at TCAF called "6 Sweet Binding Techniques and How To Do Them!" by Beth Hetland. It recommends 4-8 sheets, but I went up to 16 without problems. This PDF by Booklyn Artists Alliance sums up the process pretty well. And more guides from them are available here.
Notebooks (Perfect Bound)
Perfect binding is great for creating longer books, but it requires a little more work. Lisa MacDonald did a workshop on perfect binding during the first RDS workshop series. Click for photos from the workshop and a step-by-step to perfect binding.
Envelopes
I did an earlier blog post on this, from when I made envelopes to hold DVDs and a booklet by No One Is Illegal – Toronto. You can cut straight to the how-to video here.
Book Jackets
For protecting your books and/or privacy, allowing you to wrap covers with your own personal propaganda. How-to video here.
Wallets
I tried this tutorial and my only complaint is that for CDN bills, letter-size paper made wallets that were a little too small, and tabloid was way too big. Legal size paper or trimmed tabloid would be better.
Paper Bags
Haven't tried this idea yet but it looks awesome.
Thank You Cards, Calling Cards, and Bookmarks can all be made out of chopped up pieces of (mis)prints on thicker paper stock.
Thanks to crafty paper crafters, the possibilities are almost endless … Sketch Paper, Paper Stencils, Paper Cut Outs, Paper Mache, Collages, Images for Buttons, Gift Wrap.
And check out this plan for a Woven Basket!