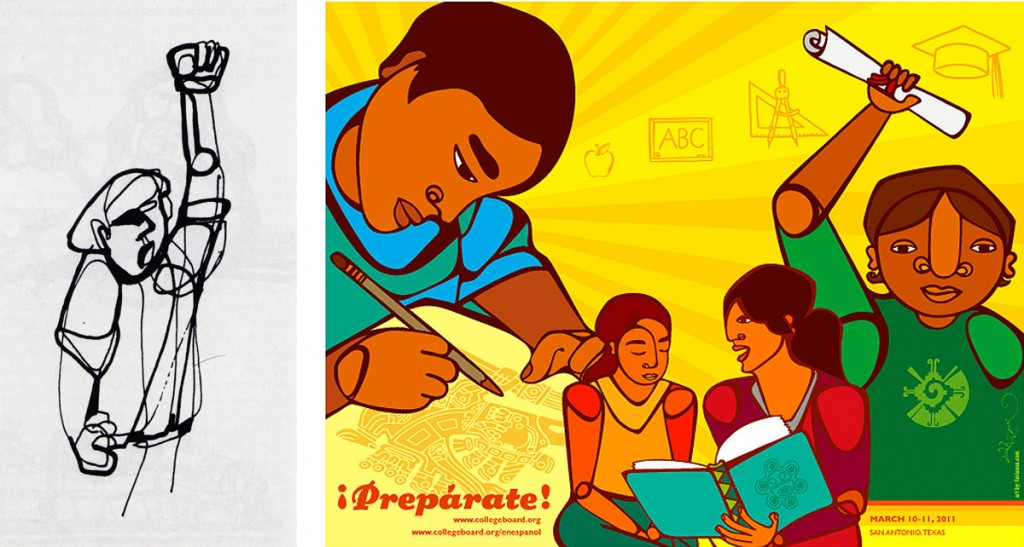 The Art of Rini Templeton (1989); Prepárate! (2011) by Favianna Rodriguez
Reproduce & Revolt (2008), edited by Favianna Rodriguez and Josh MacPhee
For 20 years, Rini Templeton travelled across the US, Mexico and Central America producing drawings for people in struggle. Her easily reproducible "xerox art" has inspired a new generation of artists to continue working in this tradition. Josh MacPhee and Favianna Rodriguez published Reproduce & Revolt in 2008, an open source collection of over 500 political graphics.
Fittingly, R&R features one of Rini's graphics on its cover and emulates the wide format and bilingual content of The Art of Rini Templeton. Moreover, the always amazing Favianna was instrumental in creating RiniArt.org, an online archive of Rini's work.
Now, we just need to get the R&R collection online, and how about a second edition? Both books are great hands-on resources for stimulating creativity in workshops and in your own design work. Rini's book is getting a little harder to find, but if you're willing to go used, you can get a copy of R&R for ridiculously cheap prices.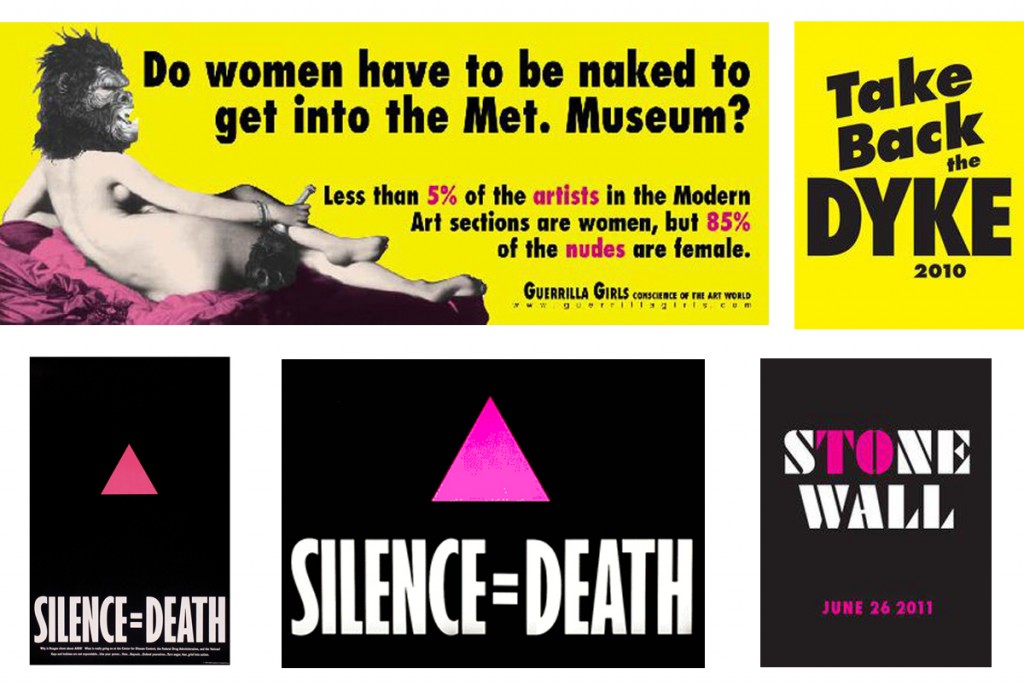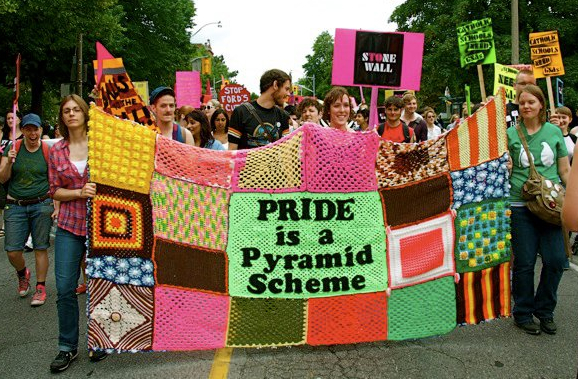 Do women have to be naked to get into the Met. Museum? (1989) Guerilla Girls; Take Back the Dyke (2010)
Silence=Death (1987), Silence=Death Project; sTOnewall (2011)
Pride is a Pyramid Scheme (2010) quilt by Allyson Mitchell et al @ sTOnewall 2011, photo via Xtra
Speaking of reproducing & revolting, check out these graphics from radical queer organizing in Toronto. The posters for Take Back the Dyke and sTOnewall draw on the aesthetic of classic images produced by the Guerilla Girls and Silence=Death Project.
They are also are connected politically because both events were organized with the intention of reigniting the political spirit of the Pride Parade by reconnecting Pride with its historical roots. A great resource on this is Gary Kinsman's work on the social organization of forgetting and the resistance of remembering.
And these posters were put up everywhere. You know folks have done a good job when you see traces or even complete wheatpasted posters over a year later.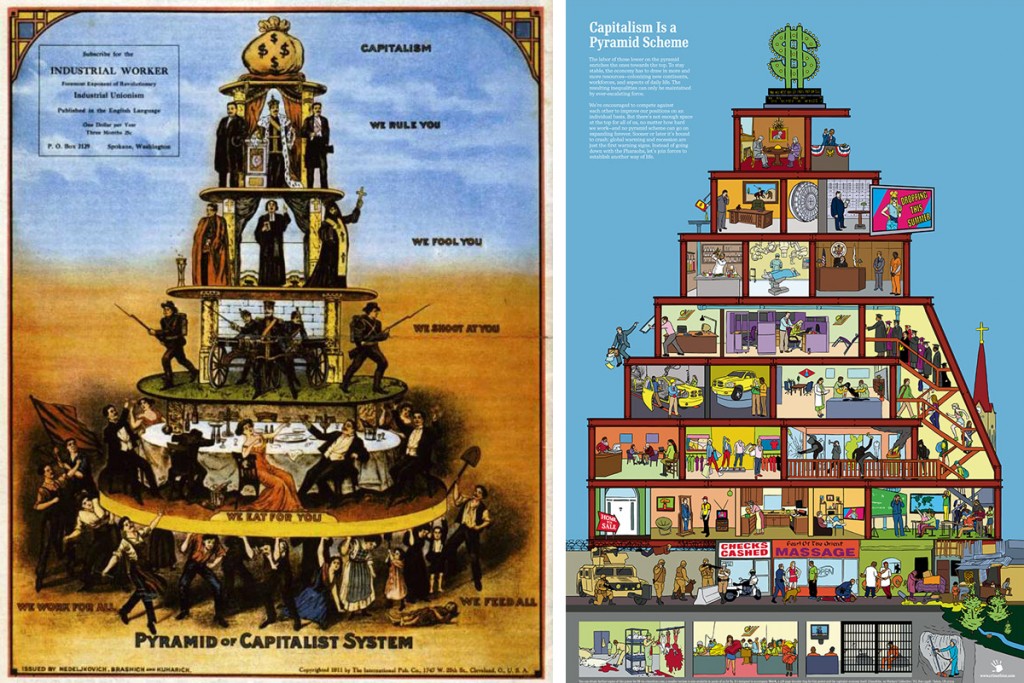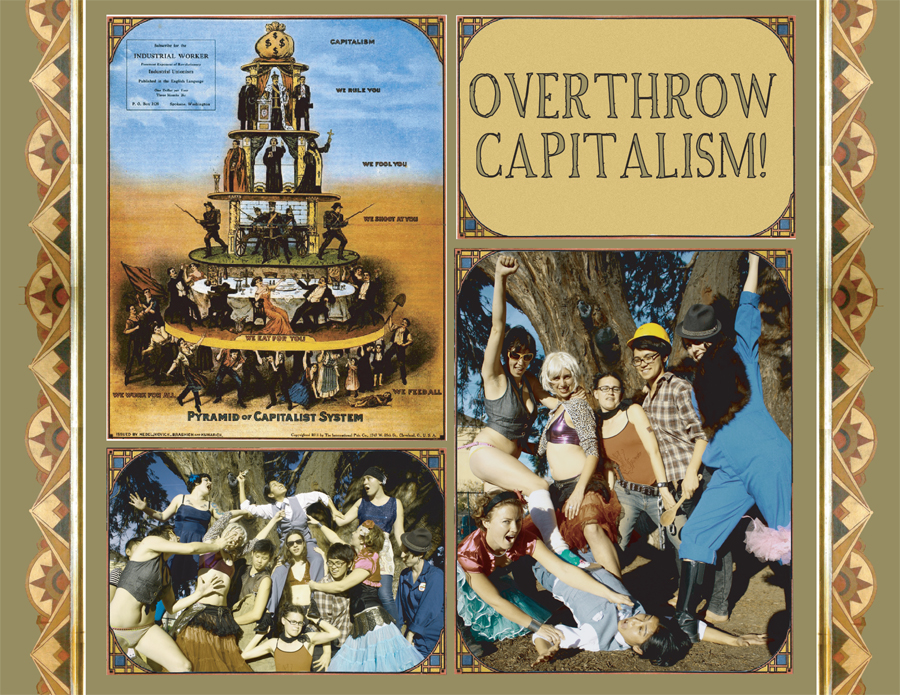 Pyramid of Capitalist System (1911) issued by Nedeljkovich, Brashick and Kuharich, Cleveland; Capitalism is a Pyramid Scheme (2011) Crimethinc with Packard Jennings
"Overthrow Capitalism" in HAVOQ's Limp Fists, Raised Fists Calendar (2011)
If pride is pyramid scheme, capitalism is the original pyramid scheme. The classic image published in the Industrial Worker, newspaper of the Industrial Workers of the World (IWW), was recently updated by Crimethinc with the help of Packard Jennings to coincide with the launch of their new book Work (2011).
HAVOQ, the Horizontal Alliance of Very (or Voraciously or Vaguely) Organized Queers, also played on this image in their awesomely intersectional fundraising calendar for their Undoing Borders tour, which stopped in Toronto in September.
For me, the strength of the original image is in making power relations visible and immediately recognizable: We Rule You, We Fool You, We Shoot At You, We Eat For You, We Feed All / We Work For All. With their poster, Crimethinc adds new layers of complexity and offers their book Work as a "376-page decoder ring" to modern capitalist society. Reproducing the original alongside staged photos, HAVOQ captures the spirit of the 1911 pyramid while offering their own sense of radical queer haymaking.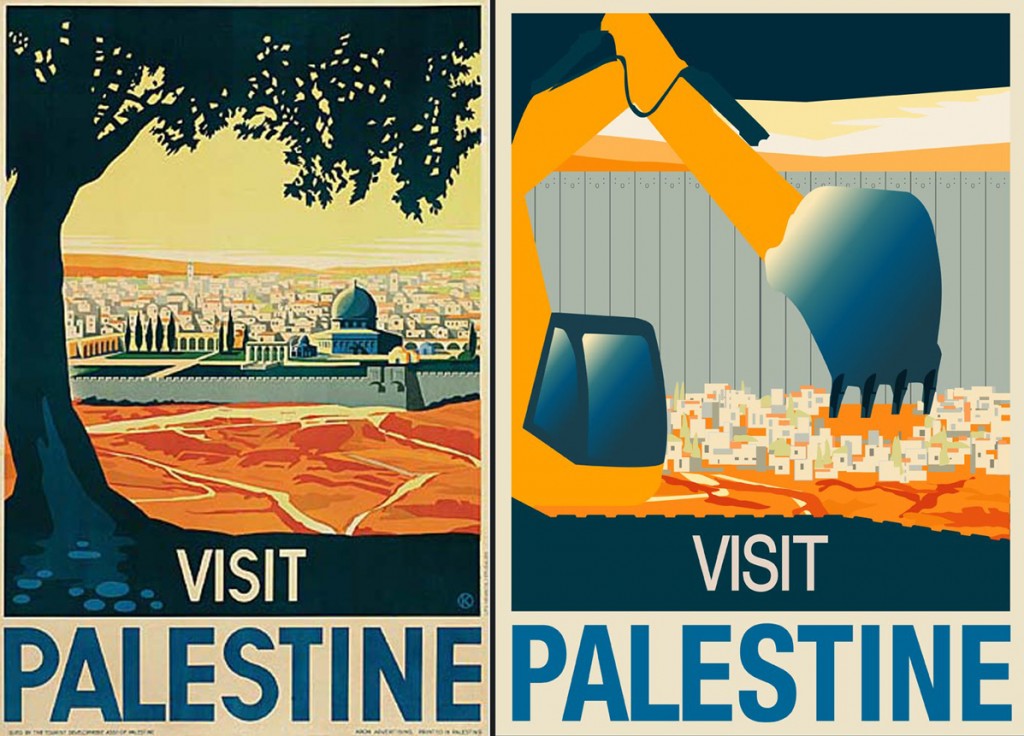 Visit Palestine (1936) by Franz Kraus; Visit Palestine (2010) by Meera Sethi
Add it up, now break it down. From an article on the original Visit Palestine poster by by Dan Walsh of the Palestine Poster Project:
"With this one poster pulled out of the Zionist attic, three core myths are debunked. The first myth is that Palestine had ever been a land without people. Obviously someone lived in these houses and someone tended these gardens. The second myth is that Palestine was a vast desert awaiting cultivation. The resplendent tree in the foreground suggests that the land surrounding Jerusalem was much more than barren desert. The third myth is that there never was a Palestine. Of course there was a Palestine, and here it is, called by name in a Zionist-published poster."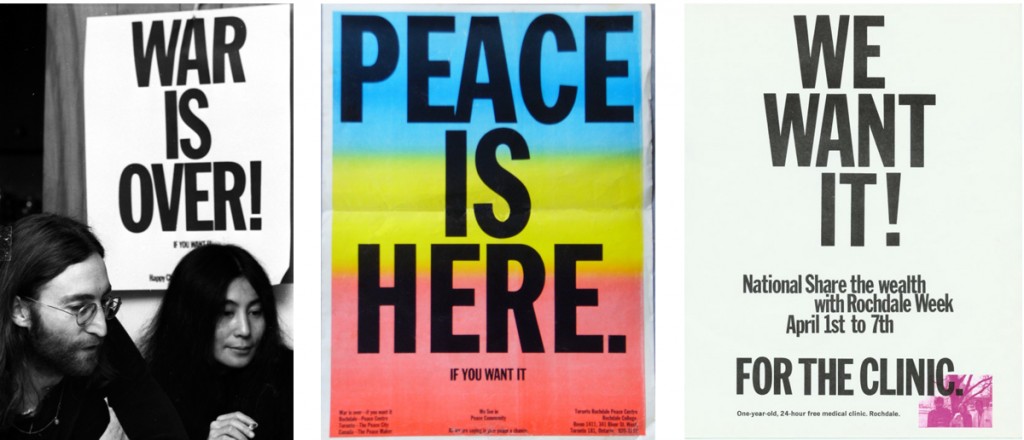 War Is Over! (1969) via Toronto Telegram Archives; Peace Is Here (~1970) by Toronto Rochdale Peace Centre via Rochdale College Facebook group; We Want It! (~1970) by Rochdale Free Clinic via Rochdale College 341 Bloor St W Facebook group
The final stop on this meandering journey is Rochdale College. I recently stumbled upon a treasure chest of photos shared by former residents on Facebook groups created for alumni.
One thing that struck me about these images, aside from clearly being influenced by John Lennon and Yoko Ono's War Is Over!, is how they represent innovative social institutions that operated within Rochdale. The Rochdale Free Clinic started what became the Hassle Free Clinic, which still operates today.
Via Rochdale College on Wikipedia: "Rochdale participants were involved with various cultural institutions in Toronto such as Coach House Press, Theatre Passe Muraille, The Toronto Free Dance Theatre, This Magazine is About Schools (now This Magazine), the Spaced-out Library (now the Merril Collection of the Toronto Public Library) and House of Anansi Press."
I think this is an important dimension of the history of Rochdale that often gets overlooked. Fortunately we now have these posters to help make that history visible again.