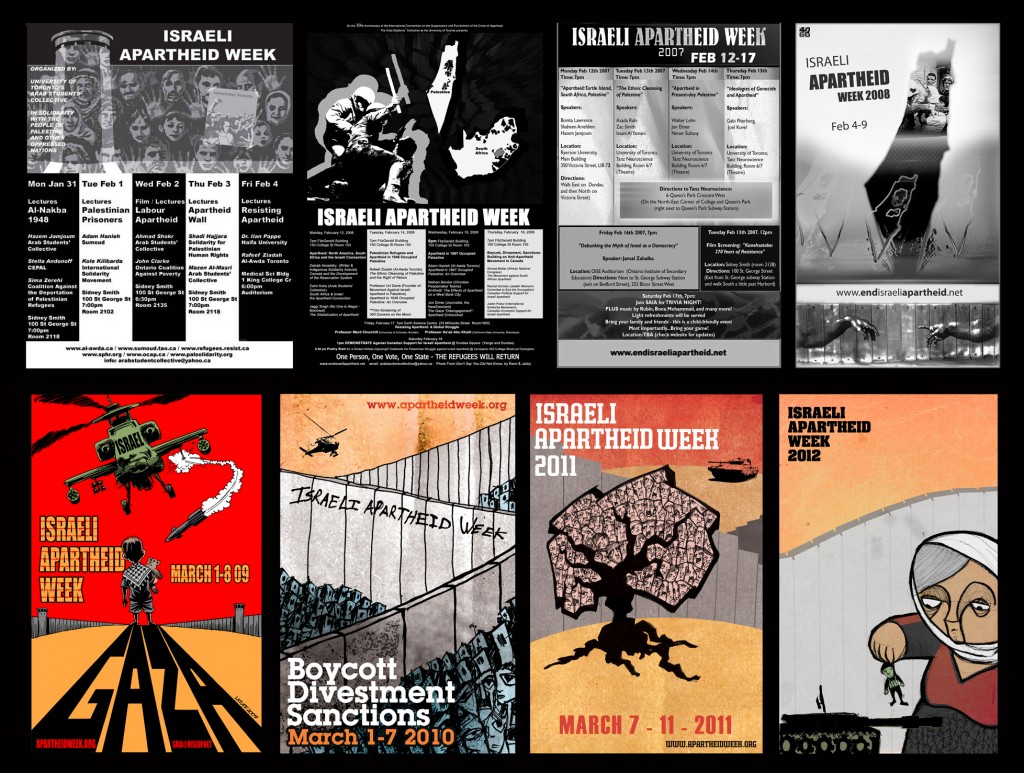 Israeli Apartheid Week is right around the corner so I decided to post this image of IAW-Toronto posters over the past 8 years. IAW has spread from a single university campus in 2005 to 97 cities in 2011, proving that nothing can stop an idea whose time has come. The nature of this growth is reflected in the posters from 2009 onwards, which offer a general image for collaborating cities to customize based on the timing of their own events and language needs.
IAW was started by students at the University of Toronto. I arrived in time for the second IAW, but I was more or less oblivious. I remember seeing IAW represented in the student press as a snowball fight between Palestine supporters and Zionists. The message was that they were both equally detestable, which was effectively a victory for supporters of the status quo.
But over time the rabid condemnation of IAW has clearly backfired, only bringing greater attention to the BDS campaign, and more scrutiny of those who continue to make uninformed arguments about IAW being a hate-fest.
A lot can change in a year. By 2007 — after taking some time to educate myself and developing personal relationships with people doing this work — I was putting up IAW posters and helping out with events.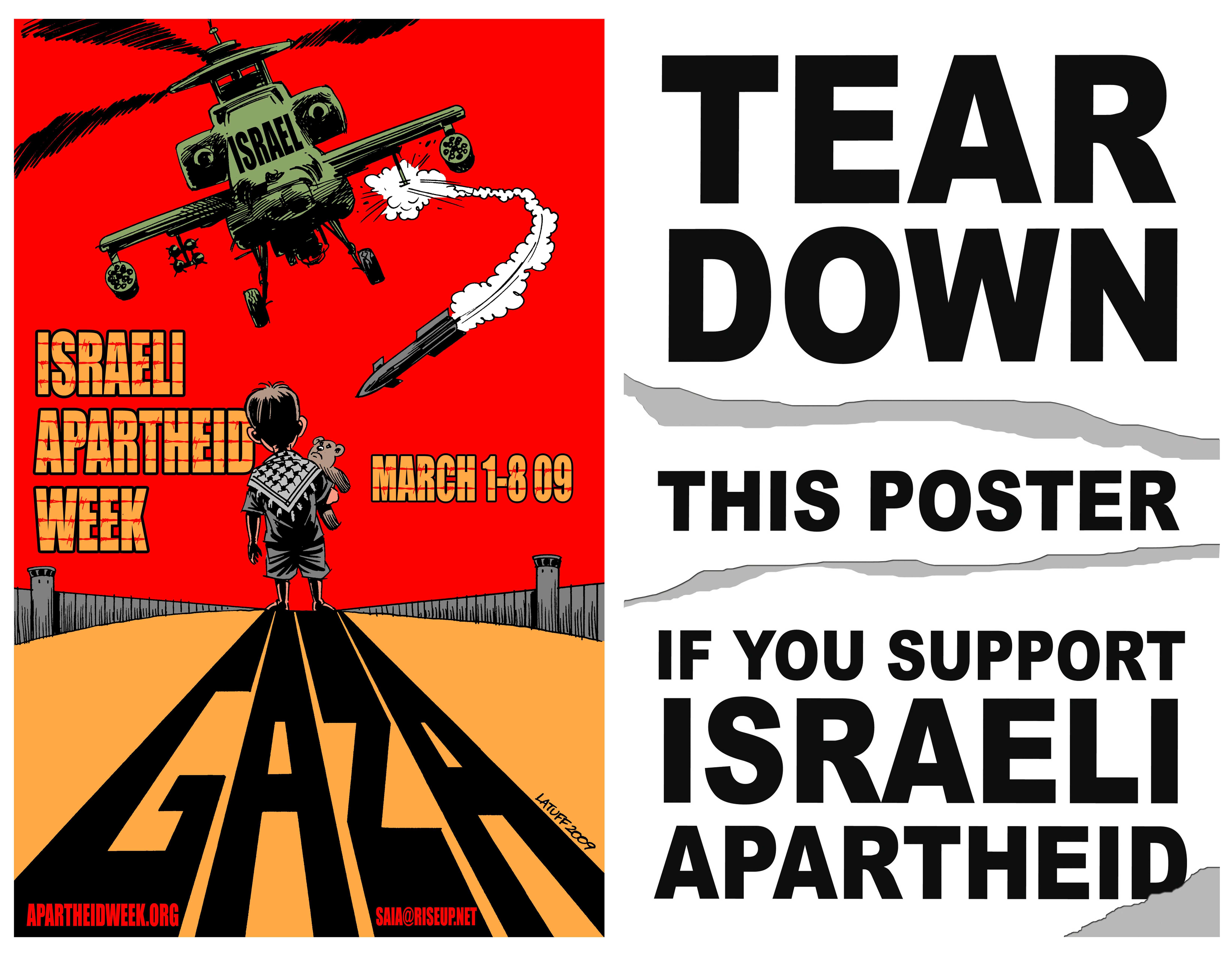 In 2009 some friends and I put up the poster on the right as a response to the tearing and defacement of Carlos Latuff's IAW poster. At Carleton University in Ottawa, the administration saved vigilantes the hassle of doing their own censorship by banning the poster outright, an act that can't be understood outside of the wider context of malfeasance by partisan administrators.
This year's wonderful poster was designed by Nidal El Khairy, one of my favourite artists, who also created the images for 2010 and 2011. In my piece on migrant justice political graphics, I mention how his work is a good representation of the connection between Palestine solidarity and immigrant rights organizing:
While in Montreal, illustrator Nidal El Khairy worked with the Coalition Against the Deportation of Palestinian Refugees, one of many groups under the umbrella of Solidarity Across Borders. El Khairy draws Palestinians and his work is often used by the Palestine solidarity movement …
The intersections in El Khairy's activism between migrant justice and Palestine solidarity is itself an illustration of how these struggles are linked. Palestinian refugees are denied the ability to return to their homeland due to the backing Israel receives from members of the international community such as Canada, while Canada and other states deny Palestinians the ability to move in their pursuit of dignity and respect [by deporting them to refugee camps].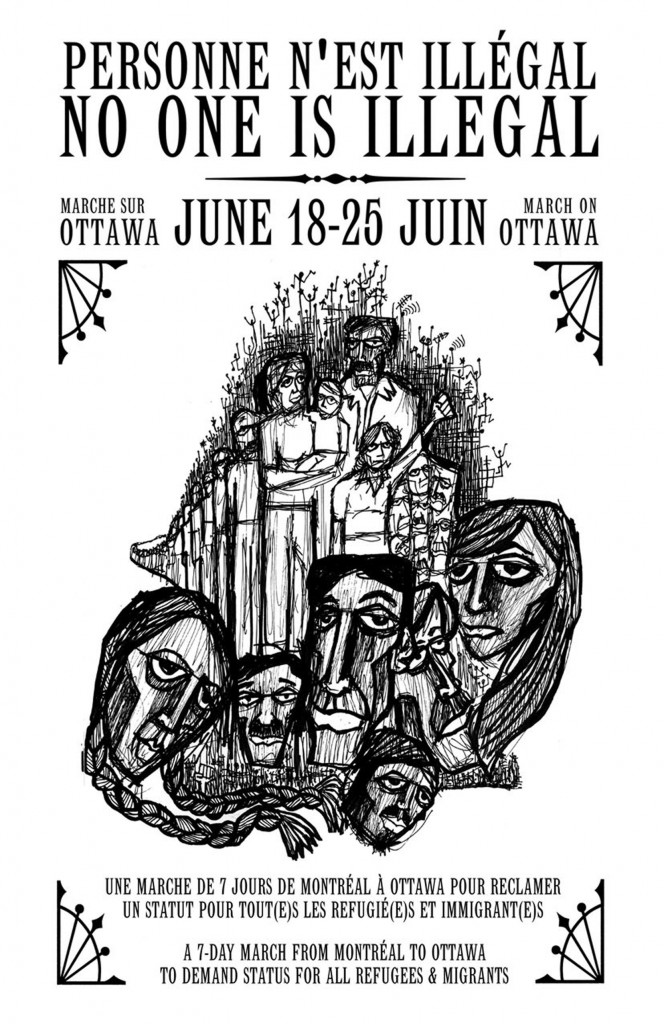 No One Is Illegal March on Ottawa, 2005 (illustration by Nidal El Khairy)