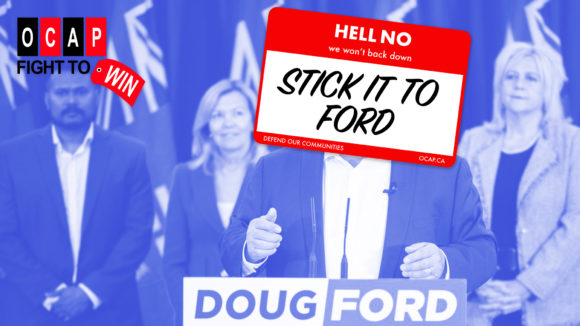 Once again teaming-up with the Ontario Coalition Against Poverty, we created a series of visuals in anticipation of looming cuts to social assistance (among many other things) in this province. The visuals were made for use at an action, held at DECO Labels & Tags (the Ford family business in Etobicoke), and beyond.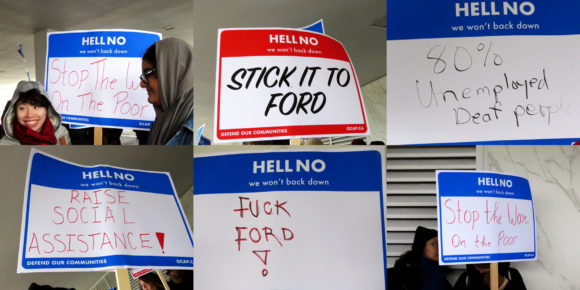 Starting with the title for the call to action – "Stick it to Ford" – we decided to run with the labels & tags theme, playing on the familiar "Hello, my name is stickers" to call out Ford and provide participants with a frame for expressing themselves.
This open, participatory approach proved useful because the expected announcement was delayed until after the demonstration, so it wasn't possible to identify one specific slogan in advance – beyond general denouncements of Ford.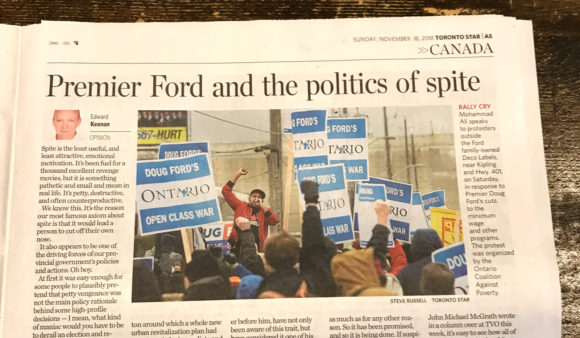 OCAP also wanted to play with Ford's "Open for Business" signs, which he is obsessed with. So they proposed a series of placards with an alternate slogan: "Open Class War" and a large format sign pillorying his empty claim to be "For the People". Jesse Purcell of Repetitive Press screen-printed our placards.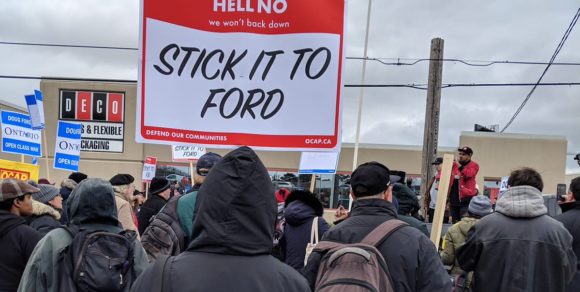 We also did a riff on the DECO logo with OCAP, and considered playing a spelling game of sorts with large format letters, like you often see at sporting events. The idea for this chilling phrase – "social murder" – came from a recent editorial published in the Toronto Star about the very real impact and deadly effects of regressive social policies and cuts to necessary services.