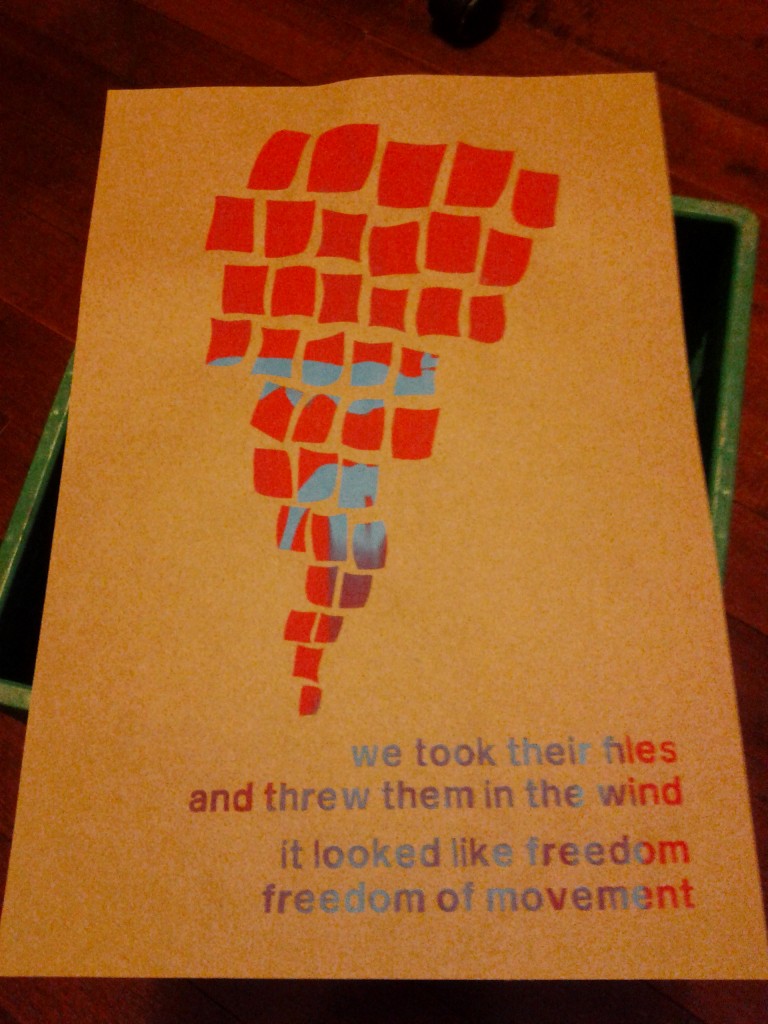 Hello internet! Check out these two new graphics made with help from my friends Sheila, Samay, Hannah, Ed and Faraz. Oh and from my mom as well 🙂
Originally the idea was for these images to be on the front and back of a t-shirt. The freedom of movement text came to me one day while brushing my teeth, while the no one is illegal graphic was inspired and more or less lifted from this banner. We picked some languages that fit our context/identities better and worked on getting the best translations in Spanish, French, Chinese and Farsi that we could.
Last week we did a run of the freedom of movement image as a screen-print in some really awesome colours and gradients, and today we made a bunch of posters and t-shirts with the no one is illegal image, but we haven't united the two designs yet.
Between my job at a youth centre and my community work, I've been doing a lot more screen-printing lately, and that's been making me pretty happy. While printing today (and making some other art, including a banner and giant scissors), we had a conversation about how we first got exposed to screen-printing.
I remember running into my friend Michael Jacko, who had just bought some mesh from the art store and was trying to explain the concept of screen-printing to me, before it made any sense. And then I remember Txus Parras Todos taking up an unofficial artist residency in the hallway of the OPIRG-Toronto office, where he created his own mobile studio and showed us how it was done.
I remember Punchclock making the best movement t-shirts ever. Being introduced to Justseeds. Getting my hands painty again with my DIY apartment heroes Cameron and Sheila. Benefitting from Renee's vision. Lara's generosity. Holding it down with Louis and Kai'anne. And the feeling of helping someone else with their first pull. <3